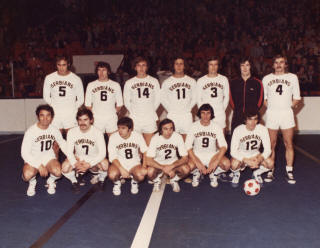 Serbian White Eagles 1973 Indoor Tournament in Toronto
Top L-R: Dragan Jankovic, Deni Denkovski, Laza Erski, Mike Bakic, Cveja Bosnjakovic, Blagoje Tamindzic and Pera Stefanovic.
Bottom L-R: Dragoslav Sekularac, Milan Miladinovic, Trifke Mihailovic, Nikola Ivetic, Mike Stojanovic and Mike Skoric.
Photo from Mike Bakic's personal collection
Thanks to Djuradj Vujcic for sending it in.