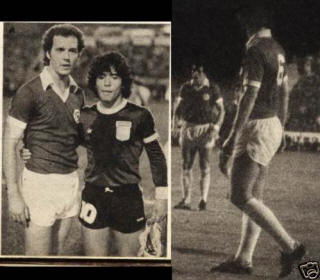 March 11, 1978 Cosmos-Argentina Exhibition
Left: Franz Beckenbauer with Diego Maradona
Right Giorigio: Chinaglia, Franz Beckenbauer
Manufacturer: Umbro

Logo: Sewn on. The patch is the difference between the 77 and 78 jersey. The 77 was green and screened on. The 78 was a colored patch. The patch was also significantly smaller than the 77 logo.

Notice that the logo is the different from the '78 home logo. The background is white on the road. It is green on the home.

Name on back: No Name

Numbers: Sewn on. The front number is missing. The back number in this Iarusci looks bigger than the Beckenbauer photo. Need more research.